These are the official Week 1 contest lines.
The deadline to submit your selections is Saturday 11pm PT / Sunday 2am ET, which is the deadline for the week. Don't get shut out
Reminder that if you use the Thursday game, you must submit all 5 selections for the week prior to the start of the Thursday game.
There are three ways to your selections:
1. You can email your 5 selections to
eog@mrbowling300.com
, and be sure to put your EOG handle in the subject line.
2. You can private message them to me here at EOG.
3. You can complete the online entry form at:
http://eog.mrbowling300.com/eog.shtml
(This has the contest lines as well)
Check back for Week 1 player selections and results........Good luck players!!!!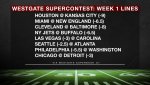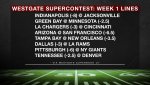 Last edited: