He's Been a Racist His Whole Adult Life.

The Democratic Liberals, Who Suck, Try To Cover it up.
I know he has, it's public record. Yet they call Trump the Racist. These are the most despicable people walking the planet, zero integrity.
Exemplar A: They just stole this election and this was in America. I've seen less corrupt Albanian voting distribution graohs.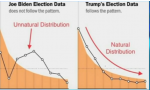 We have video evidence of people counting votes in secret whose time stamps line up w/ outrageously skewed votes for Biden.
No one wants to believe Uncle Bred that Sleepy got his fucking ass kicked?

How do people like them Apples?