There are a number of 08 models that I am drooling over. Nissan bringing Skyline to the states, and the new M3 looks absolutely wicked..........................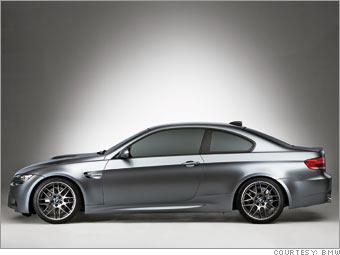 Presented publicly for the first time in the flesh at Geneva is the sports car that enthusiasts have been anticipating for months -- the new
M3
.
Although officially called a concept, we expect that we'll see an almost identical production M3 at the Frankfurt Auto Show this September.
The M3 Concept proudly wears a bulge in its hood to help contain its V-8 engine, which will be the first ever in a production 3-series. With more than 400 horsepower, the M3 will be a seriously quick car, especially since BMW has gone to great lengths to keep weight down. The M3 Concept sports a carbon-fiber roof to save a few pounds, and shares only a few body panels with the regular 3-series coupe upon which it's based.
Enjoy the photos, because the M3 concept won't be making it to the New York Auto Show next month. Of course, it will be sold in the U.S., but likely not until 2008
That M3 will be pretty pricey as well. The 335i is nice, almost as fast as current M3s, considerably cheaper. along with Lexus IS350, Infiniti G35.....what do you like?