It ain't just Maxine: Would be a Massive mistake if Senile Joe doesn't listen and hear.
https://19thnews.org/2020/08/black-...early_a_&utm_medium=social&utm_source=twitter
Black women insist that Biden "write us into history"
Interviews with a dozen strategists, activists and voters reveal that many now believe selecting a Black woman to be the vice presidential candidate is a requirement, not a recommendation.
Errin Haines
Editor-at-large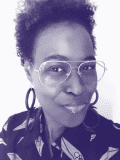 Published
August 9, 2020
This reporting was supported by the International Women's Media Foundation's Howard G. Buffett Fund for Women Journalists.
Last week began with racial and gendered attacks against some of the Black women that Joe Biden could choose as his running mate, a decision he is expected to announce in the coming days.
That criticism, combined with the news Friday night that Michigan Gov. Gretchen Whitmer — a White woman — had met with Biden to discuss the possibility of joining him on the ticket, was met with anger and frustration by many Black women strategists, activists, organizers and voters who have reached a point where they believe choosing a Black woman vice presidential nominee is no longer a recommendation, but a requirement.
"The backlash is very real, and it will be felt all across this country," said Democratic strategist Karen Finney. "Black women are sick and tired of being considered the backbone of the Democratic Party. We want to be recognized as leaders. We want all the things. We're due."
Interviews with Black women across the country reveal an evolving discussion about the vice presidency, which began during the primary and has taken on outsize importance in an already consequential election year.
In early March, when Sen. Elizabeth Warren's path to the White House looked like it might be ending, women began calling for the presumptive Democratic nominee — which appeared at that time to be Biden or Sen. Bernie Sanders — to select a woman, particularly a woman of color.
Near the end of March, Biden announced that he would choose a woman as his running mate if he became the nominee.
Since then, rumors have swirled about who Biden could choose as his vice presidential nominee. Among the Black women who have been reported as at or near the top of the list are Sen. Kamala Harris of California, former National Security Adviser Susan Rice, Congressional Black Caucus Chairwoman Karen Bass. All bring different strengths and lived experiences to the role.
"My position is that each of the candidates named is highly qualified," said Johnetta B. Cole, president and chairwoman of the National Council of Negro Women. She declined to name her preference, but said, "I think the most important thing for large numbers of us to do is to stand solidly in support of the selection of one of these candidates. If one understands that it's far time for this country of ours to not just make a declarative statement, do something about honoring diversity by addressing systemic systems of inequality."
In April, a letter sponsored by Sisters Lead Sisters Vote that initially had 200 signatures grew to more than 1,000 people saying they were "writing to recommend and encourage" Biden to "seize this moment in our country's history, and its bold future" by choosing a Black woman. Among the named signatories were elected officials, clergy and organizers.
Melanie Campbell, chairwoman of the organization, said she would be "extremely concerned" if Biden does not choose a Black woman and is cautiously optimistic that he will do so.
"It's not against anybody, but I'm just affirming Black women and what we bring," Campbell said.
Veteran strategist Minyon Moore agreed, adding that the Black women candidates in consideration are all qualified and experienced. Moore said that while she respects that the decision is Biden's, she would also be disappointed if that decision is not to choose from among the black women on the list.
"They have done all the things America has told us we needed to do to succeed," said Moore, who was among the letter signatories. "Why not write us into history.